Late Dr. Ankur Bhatia
Former Executive Director, Bird Group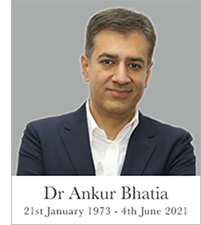 A prolific leader, true visionary and a wonderful human being that made a significant and growing contribution to the company and industry at large.
Dr. Bhatia shaped and implemented blue ocean strategies that strengthen the overall brand proposition for building uncontested market leadership. An alumnus of King's College, University of London, Dr. Bhatia was the pioneer of automation of airline reservations in India. He brought the Amadeus brand to the Indian sub-continent in the year 1994, which today provides travel technology for travel agents & airlines and is the market leader. Amadeus celebrated 25 successful years of operations in India in the year 2019.
He contributed immensely in setting up the initial IT set up for Reservation Data Maintenance (India), an IT enabled software development and service support company for managing back-end airline operations and inventory control. RDM was the first Indian BPO, which was established in 1992 and today has an enviable list of airline clients in its portfolio.
Bird Group's IT services and R&D foray with Bird Information Systems (BIS) serves to provide technology and solutions to various airlines. Also, to his credit is BirdRes, a B2B distribution channel that allows the travel industry players to effectively manage all aspects of their content and payment needs in a flexible and easy to use solution. He also opened an IT Solutions & Services company in Dubai, Bird Technologies FZ LLC. Armed with in-depth understanding and thriving on extensive knowledge of the travel market as well as decades of experience in the service Industry, Dr. Bhatia spearheaded the growth for the Group in the hospitality sector under Bird Hospitality Services, to set new standards and world-class hospitality assets through Roseate Hotels & Resorts. Today the Group owns and operates six uber luxury properties in India and the UK, each having an individual brand identity. He is amongst a few in India who have created an indigenous hospitality brand and within a few years raised it to greater heights and international standards. He is also credited to have launched the country's first natural and perennial indoor ice-skating rink and café – iSKATE, located in Ambience Mall, Gurugram.
A true entrepreneur and a visionary at heart and having identified the need for clean and greener Delhi, with Bird Electric Dr. Bhatia guided the company into redefining the future of personal transportation. The Group was the first to have brought eco-friendly, zero-emissions and energy-efficient Segway PT amongst other to Indian market and has been constantly adding unique new age mobility vehicles to the product portfolio of Bird Electric. In 2017, Dr. Bhatia established BirdApps, which is an on-demand market place for the travel, hospitality and lifestyle sectors.
Dr. Bhatia had the credibility of being a trusted commentator on India's Aviation and Tourism industry. He actively sat on committees of various industry bodies and was a member of CII's National Committee on Aviation, Infrastructure and Luxury Retail. He had served from 2006 - 2007 as the youngest elected Chairman for the Delhi State Council for Confederation of Indian Industries. Dr. Bhatia was also a very active member of (the) World Economic Forum in India. For his outstanding contribution to the travel, tourism and hospitality industry, he and the various business verticals under his patronage have been felicitated with prestigious awards and accolades over the past many years. Dr. Bhatia was conferred upon with the title of Honorary Consulate General of the Republic of Liberia in India, by Her Excellency the President of the Republic of Liberia. In September 2016, he was awarded with an honorary Doctorate of Excellence recognizing Dr. Bhatia for his success in his established field. A firm practitioner of Corporate Social Responsibility (CSR), he had institutionalized the concept of caring and giving at Bird Group. Dr. Bhatia has been affiliated with the non-profit charitable organization Sukarya which strives to improve the health and wellbeing of members of marginalized societies by providing free health services.He was also a contributor and sponsor of many charitable events such as the Blind Relief Association, Sri Aurobindo Ashram, Concern India Foundation etc.
Elder of the two sons of a successful and affluent business family, Dr. Bhatia leaves behind his wife, Smriti who is an architect, and his two children.